Dutch freelance journalist Michel Spekkers who is making a documentary on the situation in Eastern Ukraine found in early January 2017 bones and small parts of wreckage which belonged to the Boeing 777 shot down at July 14 2014
Spekkers entered Eastern Ukraine via the Russia border (which is illegal). Spekkers left Ukraine at January 6 to Moscow.
TL;DR
A Dutch freelance journalist Spekkers found bones and wreckage , put it in a garbage bag and took it from the barrack where it was kept.
Upon arrival at Schiphol airport, Dutch police seized all the media (SD, hard disk), laptop, mobile phone and camera including the bag with wreckage parts.
Spekkers around 2004 -2007 was in US and Dutch jails for over two years because of scam, falsifying credit cards and travelers checks
Spekkers started a poll on Twitter what to do with the bag full of parts and bones.
Dutch prosecution service stated it is still unsafe to recover wreckage parts. Which is nonsense.
This is one of many occasions in which journalists reported about wreckage and bones. The Dutch should have cleaned it all. Big mistake they did not.
Some of Dutch press suggested their readers it was very likely these bones were human remains. Which is not proven.
Spekkers collaborates with notorious pro Russia freelance journalist Graham Phillips.
Many regular media like VTM and RTL Nieuws found wreckage and bones months after the crash
Graham Phillips and partner Patrick Lancaster made several videos in the past showing bones and wreckage at the crashsite
One of the pieces Spekkers found was this indicator of seat location.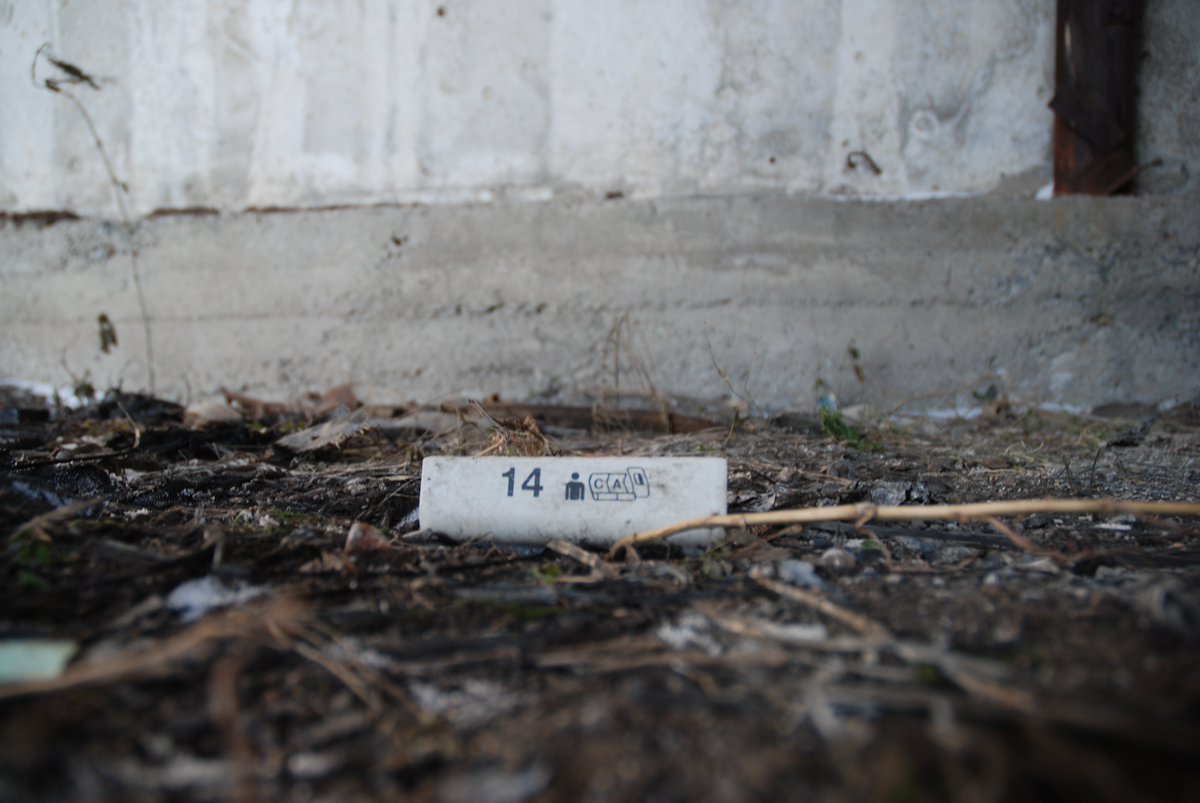 Not only he found small parts of wreckage, he also found a few small remains of bones. These could be from people onboard the aircraft. However it is far more likely these are animal remains. Dutch press however suggested these were very likely human remains. Spekkers put the bones in a garbage bag but later put these in other, more respectfull bags.
For example EenVandaag journalist Emil Vaessen who states on Twitter " Spekkers tells he very likely found human remains on the crash site". In the January 6 actual radio interviewSpekkers does not state these are likely human remains. "He fears the bones could be of human beings".
In Dutch newspaper Noord Hollands Dagblad is stated that Spekkers also found "belongings". It is not clear if these are personal belongings of passengers.
When I asked Spekkers on Twitter about the location he found the bones, he could not tell. He wanted to look at the GPS data of his photos first. However Stefan Beck who was with Spekkers in Donbass (not during the visit to the crashsite) mentioned on his website the bones were found in the barrack.
However in Brabants Dagblad Spekkers states "I am aware how a bone looks like. I found these at a location which indicates it could be of one of the victims"
Spekkers put the bones and wreckage parts in a garbage bag and started a poll on Twitterasking his followers where he should bring the garbage bag to. Choices were: Dutch Parliament, Dutch prosecution service or his mother.
Spekkers got a lot of criticism on this poll which he started at January 4. In NH Dagblad he stated "until Friday (Jan 6) nobody had criticized me for that poll". Which is incorrect. A user named Pieter999 stated at Jan 4″you are a bigger asshole than I thought you were" as a response to the poll.
On Twitter Spekkers later regrets he used a garbage bag and started a poll.
Spekkers left Eastern Ukraine for Moscow on January 6. Then he flew to Warsaw. On Saturday January 7 he flew to Amsterdam. He will meet Dutch Police at Schiphol airport immediately after his arrival.
Dutch Police Tweet saying "a detective and member of LTFO (Forensic Team) will accept goods of Spekkers. These might be from MH17 crash site.
Upon arrival at Schiphol Dutch police not only took the wreckage and bones, but also SD cards, Hard disks, camera's, telephones and laptop. This was not agreed beforehand. Police took all the video material from all of the days Spekkers was in Ukraine. Agreed was just the material showing the wreckage and the packing in bags of wreckage.
Dutch police stated that all the material will be sealed and stored. Possibly it will be used later in the investigation according a police spokesman.
Dutch NOS reports here about the seizure of all the video equipment. Nu.nl reports here.
Old news
What Spekkers found is basically old news. Back in December 2014 Belgium TV showed the same barrack which Spekkers visited and showed there were many wreckage parts stored.
In January 2015 Graham Philllips published this video. It shows likely the same barrack which Spekkers visited in January 2017. The video shows what could be hair of a human and also shows bones.
In July 2015 Patrick Lancaster, a freelance journalist related to Graham Phillips, published a video in which bones could be seen.
In March 2016, Jeroen Akkermans, report for Dutch RTL Nieuws wrote in this article titled MH17, een tussenbalans: 'De waarheid dreigt te ontsporen' about bones he found on the crashsite.
Akkermans found about a bucket full of bones scattered around a small area. He asked the mayor who said it could be of animals dumped by farmers. The next day the bones were gone.
Manipulation
There has been a lot of manipulation on all kind of things related to MH17. In the media, on the wreckage. So bones on the crashsite could be put there for propaganda reasons.
The response of the next of kin
Many of the next of kin were shocked. As NH Dagblad reports here "Nabestaanden boos na vondst spullen MH17: "Dit hakt er zwaar op in". Ergernis over meenemen spullen MH17 (Telegraaf)
The response by the Dutch prosecutor
The Dutch prosecution service send at Friday January 6 this email to the relatives.
The investigation team has taken notice of the messages that have been placed on the twitter account of a Dutch journalist called Michel Spekkers. Spekkers claims to have found possible human remains on one of the crash sites. He also claims to have found other items that can be related to the crash. The investigation team has contacted this journalist and has asked him firmly to hand over these possible human remains and other items as soon as possible to the Dutch authorities, in order for them to be investigated forensically in The Netherlands.
A spokesman of the Dutch prosecutor told Algemeen Dagblad:
,,Dat daar nu nog steeds van alles gevonden wordt, is logisch", aldus een woordvoerder van het Landelijk Parket van het Openbaar Ministerie. ,,Het toestel kwam in een groot gebied terecht, waar het nu nog steeds onrustig en onveilig is. Dat maakt het bergen erg lastig." De kans dat er nog menselijke resten in het gebied liggen, is daarom groot, volgens de woordvoerder.

Translation: That all kind of wreckage is still found is logical. The aircraft came down in a large area, where it is still not peacefull and safe. That makes recovery very difficult. The possibility that human remains are still in the area is big"
Both Spekker and Stefan Beck who is in the area as well state it is very quiet and safe.
We can only guess why these wreckage parts are not removed from the barrack. My personal guess is bureaucracy. Many Dutch organizations were involved in recovery (Ministry of Defense, DSB, Dutch Prosecution service, Dutch and Australian Police). Probably nobody bothered to collect or destroy the remaining wreckage.
Recovery of wreckage
The Dutch Safety Board coordinated the recovery of wreckage in 2014. DSB at that time stated that it could not recover all wreckage. Due to the safety situation and limited time, it only recovered parts relevant for the investigation into the downing of MH17. An agreement was made with the mayors of surrounding villages that parts still in the crash area would be collected by locals. These parts are brought to a couple of barracks. One of those is near the village of Grabovo. This is a blogpost with more information.
Belgium TV station VTM visited the barrack in December 2014.
It seems Spekkers visited the very same barrack in January 2017. This is a photo taken from a newspaper article which published an article written by Spekkers.